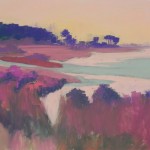 This is the second demo of the week, done in my studio.  It is a more detailed and quiet painting than the first and it took longer to complete.  The photo for this one was really boring!  I knew I was going to have to do something to make it more interesting. I decided initially on two things. One was to use a lot of reds and warm colors both in the underpainting and in the painting itself. The second was to add a red-winged blackbird in the reeds at lower left.
Having learned from Monday's demo, I decided that this would be an all-hard pastel underpainting and I was quite pleased with the lovely colors!  I made an important change to the composition, by creating the triangle of water at the bottom left to help lead the eye into the picture. Otherwise, the composition is fairly close to the photo.  For the sky, I used a variety of aquas and cooler blues, then added a light green Unison and a pale red violet which warmed up the left side very nicely. For the background trees I used a combination of a deep red majenta and greens, starting fairly dark and working adding lighter greens, light cool reds, and oranges over top. I used grayed Unisons and Giraults for the background grasses and we all really liked the one piece of lighter grass that stands out near the middle of the picture in the background. Working down to the lower left grasses, I added the blackbird, but he didn't last long!  Everyone agreed that he had to go. One person suggested putting him in the reeds above the right side, where he would have stood out more. But we decided against that as well.
For the foreground reeds, I lay in violet, reds, and oranges, then some green and used the sides of Giraults to work in the grasses, working from darker to lighter.  The last thing was to add the orange grass heads.  Following the class, I made more alterations to the background trees and changed the shape of the sand spit and water below.
I'm not sure that the photo is picking up the variety of colors in the trees and grasses. It was hard not going to the violets, but I had decided to work with a red and green palette, as much as possible and I liked the warmth that it produced.
So now, I'm going to look for perhaps yet another one from Chincoteague to work on for the upcoming Open Studios weekend at Artists and Makers. If you are in the vicinity, I hope you'll come! March 4-5, 10-4, 12276 Wilkins Ave., studio 320.